STOP FEELING 

FINANCIALLY INSECURE
LEARN OUR KNOW-HOW FOR PERSONAL FINANCE
You can end your financial insecurity…simply and easily.
Learning effective finance management at SCIENTOLOGY New Haven can help you…
• Get and stay out of debt.
• Make excellent investments.
• Have an excellent credit rating.

With the powerful financial management know-how you learn at SCIENTOLOGY New Haven, you can become financially secure. You'll learn to plan your finances to avoid debt, make good investments for your future and establish and maintain excellent credit.
There are a lot of ideas out there about managing your finances, but too many of them have proven untrustworthy.  Scientology's know-how for managing finances is unique.   It has been proven by many to be highly practical and highly reliable. It is something you can trust.
Video: What is Scientology?
Video: Tribute by a Businessman
THE EXACT KNOW-HOW you need to be financially secure is contained in our short course: Scientology Tools for Financial Security.  Contact us to…
     • Obtain more information.
     • Sign up for this course. 
UNCERTAIN OF YOUR FINANCIAL MANAGEMENT SKILLS?
Take quiz to measure your skill in managing your finances.
Come visit
Walk-ins welcome
980 Whalley Avenue
New Haven (Westville)
Service Hours
Monday - Friday 10:00 AM – 9:30 PM
Saturday & Sunday 9:30 AM – 6:00 PM
More information about this course and how it can really benefit you…THERE IS AN ANSWER to achieving all you want out of life.  There is a way to unfetter yourself from the travails of managing your affairs and handling the tribulations associated with rising costs.  Then, even if faced with a crisis, you can swiftly recover.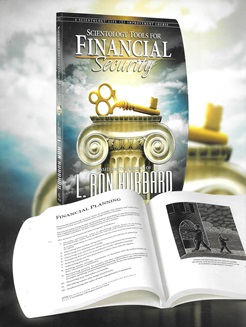 The know-how for effective personal finance can be found in the Scientology Tools for Financial Security Course. 
On this course you will learn:
• How to plan your finances so you never go into debt.
• How to turn every outlay into an investment in your future.
• The steps to establish and maintain excellent credit.
The fundamental truths contained in this course, when applied, can result in continued prosperity and growth—for you, your family and for your business, whether large or small.
This short course is available at the Church of Scientology, New Haven which is located at 980 Whalley Avenue in the Westville section of New Haven.  The cost of the course is $50 and takes seven days part time to complete.
A prerequisite for this course is Formulas for Living ».
Our service hours are 10:00 AM – 9:30 PM, Monday - Friday and 9:30 AM – 6:00 PM, Saturday and Sunday.  For your convenience, your study schedule can be tailored within our service hours to fit into your life.
Scientology Tools for Financial Security Testimonials
"I understand why things have failed in the past and I know when I apply this technology my business will flourish. I can dissect my business, see what works and doesn't and see how to control it and make it grow. I feel stronger and more confident because I have a plan. That is the true definition of security." V.J."The whole area of finances was always somewhat mysterious and hard to understand before. Now it is utter simplicity and easy to apply. This is a great course." R.S."Before this course I thought financial security was for those with rich fellows around them from the time of their birth or it had to be left as an inheritance. Financial security is possible if you have the right tools and you use them consistently. Truthfully I am now off to a great start." S.P.